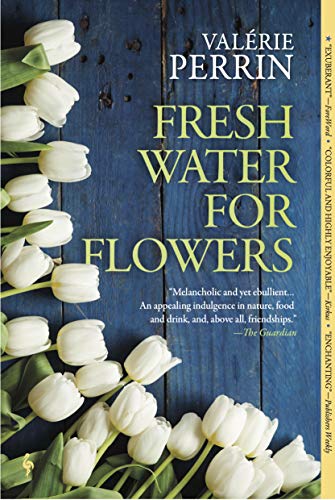 Fresh Water For Flowers  – Valérie Perrin
I grew up holidaying in France and my father speaks fluent French yet somehow my grasp of the French language is not good. What did stay with me is a love for the 'feel' of spoken French. The cadence, the passion, the beauty.  Fresh Water For Flowers was originally written in French and was a huge bestseller in France. Its translation has taken the literary world by storm. The book has an essential French feel about it that goes beyond its settling. The turn of phrase, the style, and the feel of the book are quintessentially French and I loved it. I could not put this book down. I have a busy life with young children so a book has to be really arresting to capture my attention for long chunks of time and this one really did. 
Set in a cemetery, centering around Violette, a cemetery caretaker par excellence. Violette's cottage is a welcoming haven to mourners who visit and her care for the cemetery and those interred there is whimsical, and charming. We learn about the cemetery's eternal inhabitants and their sometimes extraordinary stories through Violette and her encounters with the mourners she meets. But Violette's reason for being at the Cemetery is more than just her job. The novel hops back and forth in time to tell her story. There is a twist in the tale which will have you wanting to reread the book as soon as you finish it.
If you are worried that a book based in a cemetery might be macabre or depressing fear not. This book speaks to hope, the love and romance of life, and the quirks of fate that make life so interesting
I couldn't help thinking about the translation of this book because its feel is so French. Hildegarde Serle has done an extraordinary job translating this book to maintain its essence. Villa Magna itself has roots in language and translation and this book is a brilliant example of translation done well to bring readers of English something different without losing what was in the original.